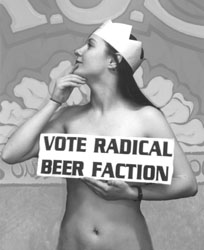 ---
The first issue to address is why I'm running for VPF: I care about cash, not about students. I'm an economical whiz and know how to make money; I play the stock market, I'm a charming entrepreneur, and I regularly roll drunks outside of The Pit. Seriously though, I'll want to frolic naked la Scrooge McDuck in the AMS money vault rather than listen to clubs whine about funding cuts.
As for AMS fees, they're too high. Students don't even know half the things they're paying for (go apathy!), and could be spending their hard-earned cash on much more life-altering, important things, such as beer.
---
2. Saving student's money is simply an issue of restructuring certain areas. Charging admission to the SUB, freezing all utilities, and installing brothels of Icelandic hookers in the executive office are all valid ways to save and make money.
---
3. If the AMS reaps a surplus (excuse me while I stifle uncontrollable laughter) the money would best be spent on new areas of entertainment for this lethargic student body. I will host matches of the Siamese Fighting Fish Federation (Judo-chop!), and more TVs will be installed in the Pit, their sole purpose to be tuned to Fox specials in order to ingrain some sense of humour and unclassiness into this anally-retentive, anti-redneck campus.
I promise to donate 10 per cent of all the money I embezzle to charity. One issue that's also important is the topic of medical and dental. Under my control as VPF, this plan will be extended for all students to cover liver transplants, breast augmentations, and any accidents resulting from the action of necrophilia.
Remember, not all candidates are created equal...some take the time to get the job done right. Vote Benson for VPF.